Stuffed Aubergines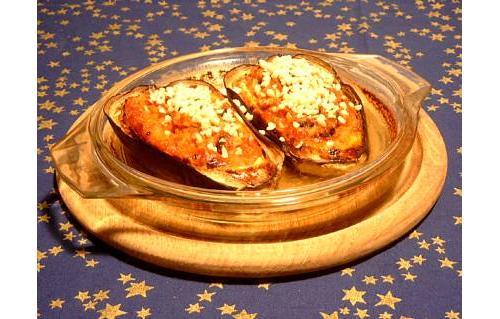 250 g
tomatoes, skinned and chopped
Preparation
Halve the aubergines lengthways.
Remove the flesh, leaving about 1 cm shell.
Sprinkle the shells with a little salt and put them upside down on a plate to drain away any bitter juices.
Heat half the oil in a saucepan.
Fry onion and garlic until just softened.
Add the remaining ingredients and simmer for about 15 minutes or until the mixture has thickened.
Wash and dry the aubergines and fill them with the mixture.
Place in an oiled ovenproof dish.
Mix the remaining oil with 150 ml vegetable stock and a little seasoning.
Pour it around the aubergines and bake for 40 minutes (or until tender) at 180°C.
The folling kitchen utensils are required:
libra
.
Recipe group: Main.
This recipe was inserted by Peter Beck / 2002-12-01 13:02:00
---
Fussnoten
This is a recipe from the European Vegetarian Union database (www.euroveg.eu).
Contact address: rezepte@swissveg.ch.
This page is maintained and updated by Swissveg, Niederfeldstr. 92, 8408 Winterthur.